We pave the way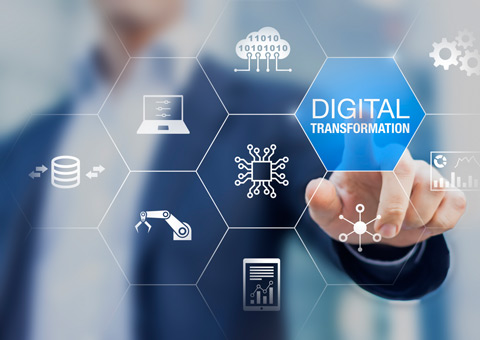 Digitized processes are built up of various levels: devices and sensors receive and send data via network infrastructures. This data converges on platforms and is used in applications. Finally, the interaction of all components is ensured by services.
euromicron unites the expertise required for that under one roof. In all our solutions, we combine the most sensible and cost-effective elements from every level. In that way we create customized solutions  that pave concrete paths to digitalization for our customers.
We have the expertise
A digital solution comprises up to five levels that build on each other and have a wide range of different hardware and software components. euromicron offers products and services at all levels and combines them to create highly powerful IoT systems. As a result, we enable our customers to tap the potentials of digitalization.
Sensors and Devices
Sensors and devices are crucial factors in the quality of the data that is gathered and analyzed. We know the state of the art, implement cost-effective solutions that protect investments, and provide vendor-independent consulting.
Examples are:
Cameras
Fire and burglar alarms
Sensors
for measuring filling levels
for air and water quality
for geolocation
for pipeline monitoring
...
Infrastructure
Whether wireless-based or wired: We implement high-performance network infrastructures and ensure their availability, confidentiality and integrity by means of appropriate security technologies. We make some of the components ourselves. The result is networks which have a quality and security surpassing the solutions from customary network providers and are even suitable for very challenging tasks.
We create the following to suit our customers' individual needs:
LoRaWAN wireless and radio relay networks
IP-based LAN and WLAN networks (office and industrial networks)
PDH, SDH, IP, MPLS wide area networks
FTTx network infrastructures
Platforms
We pool the data from sensors and terminal devices that is gathered by the selected infrastructures on platforms we have developed in-house. We make it available for visualization and storage or, via interfaces, for analysis and use in applications. As a result, data is turned into information for secure and intelligent applications in the smart city, smart building and smart industry, as well as for assistance systems and processes at intelligent workplaces and in production.
Applications
Apps permit intelligent use of data. We develop some of them ourselves – on a customer-specific basis or for general use. We provide interfaces for the vast majority of the apps that process data from systems we have developed. The result is an ecosystem of applications based on the industry know-how and expertise of our customers and development partners.
Services
Services – from concept design to operation – are part of the digitalization activities we offer. As part of that, we also take over performance of end customer services on behalf of other technology vendors. Our Competence Centers and Germany-wide footprint ensure we are close to customers and have short response times.
Examples from our range of services:
Consulting
Cybersecurity concepts
Training
Servicing and maintenance
Managed service and operation
We tap potentials
We implement digitalization with our customers step by step. As experts with in-depth know-how, we contrib-ute our competences to many new and challenging projects. As a result, we gather the experience today that our customers need for connecting tomorrow's worlds of life and work.