Division
Other References
Customer
Max PlanckInstitute for Physics
Project
Reflecting telescope La Palma: LWL Sachsenkabel supplied 3,300 meters of optical cable for MAGIC-1, made up of a total of 20 individual cables, each with 72 optical fibers. That gives 1,440 individual fibers, in which the signal time delay must not be greater than a billionth of a second.
Control
The results were controlled at LWL Sachsenkabel and on site under the critical eyes of the scientists from Munich.
Contact
LWL-Sachsenkabel GmbH
Phone: +49 3721/3988-0
info [at] sachsenkabel.de
www.sachsenkabel.de
euromicron subsidiary LWL Sachsenkabel convinces Max Planck Institute with its metrological precision on supplied fiber-optic cable for Physics
Astrophysicists from the Max PlanckInstitute for Physics in Munich are researching the enormous emission of energy in black holes using gigantic high-precision reflecting telescopes. euromicron's subsidiary LWL Sachsenkabel GmbH supplied fiber-optic cable meeting all the accuracy requirements demanded in modern science for such a telescope on the Canary Islands. MAGIC-1 is located on a plateau on La Palma. The reflecting telescope consists of around 1,000 precisely measured and ground mirrors. All of them together are to receive blue light from space in the deep darkness of night on the Canaries: Cosmic gamma rays that are produced in the vicinity of black holes and from which astrophysicists hope to gain new findings on these points of infinite density.
Leading Technology
Adistinguishing feature of MAGIC-1 is maximum precision – and that also goes for the cabling. Munich's Max Planck Institute for Physics, which is in charge of the project, therefore uses a technological standard that ideally supports or can even maximize the performance of the valuable instrument. In this connection, euromicron's subsidiary LWL Sachsenkabel GmbH was commissioned to supply 20 fiber-optic cables in high-end quality for the signal path from the camera to the analysis unit.
"Above all, that was a metrological challenge," sums up Steffen Lüdemann from Research and Development at LWL Sachsenkabel GmbH. In order to achieve the extraordinarily small fault tolerance specified by the Max Planck Institute, the euromicron company used sophisticated measurement technology. The measurement setup was formulated in close cooperation with the scientists from Munich. The stipulation was that the delay time during transit could not exceed one nanosecond – after all, light is quick and that demands quite a bit of the measurement technology.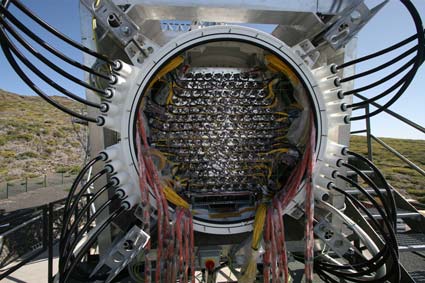 Virtually loss-free transmission
The result is impressive: LWL Sachsenkabel GmbH supplied 3,300 meters of optical cable for MAGIC-1. That gives 1,440 individual fibers, in which the signal time delay must not be greater than a billionth of a second. The cables  therefore deliver virtually loss-free analog transmission of the optical signals. One further challenge was to comply with various geometrical conditions, such as low-tolerance whiplash lengths and overall length. A special IP class 67 traction and protective element was developed along with a cable gland in order to ensure operability in the extreme weather conditions that prevail at the location. As the customer requested, the cables were assembled on both ends with a connector offering built-in laser protection. All the results were controlled at LWL Sachsenkabel GmbH and on site under the critical eyes of the scientists from Munich. The precision that was achieved is naturally of great value, especially for research institutes. "However, that will also be of growing interest to telecommunications providers in future," predicts Lüdemann. "Precision will become more and more of an issue due to the soaring volume of data, including in traditional networks."